User Guide Manual D20-F2E-TRUCK
Table of Contents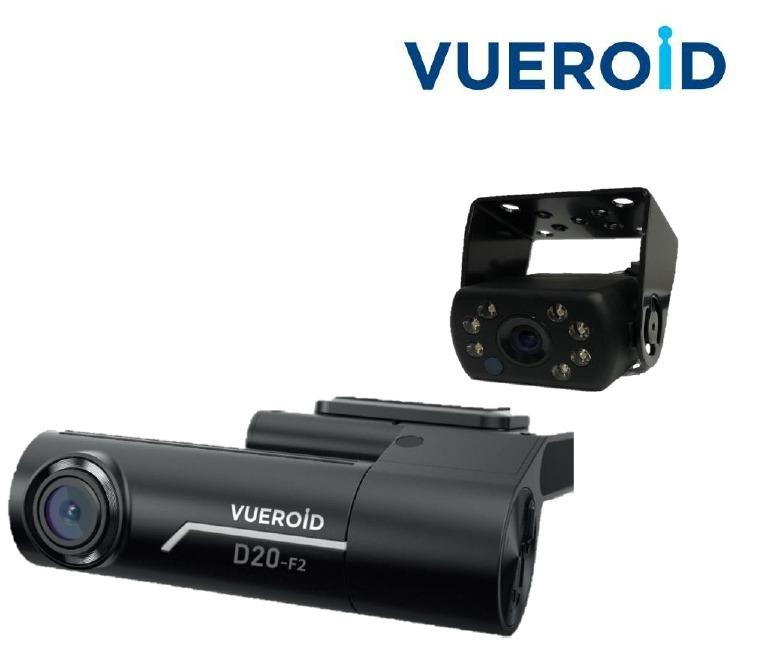 1. PRECAUTIONS 
WARNING
Do not expose this product to rain, moisture or water under any circumstances, doing so many result in the risk of electric shock or fire.
CAUTION
To reduce the risk of electric shock, do not perform any servicing other than that contained in this instruction unless you are qualified to do so. Please make sure to have the unit serviced by a qualified service technician if you are facing with some cases as follows;

1. The unit has been exposed to rain or water.
2. The unit does not seem to operate normally.
3. The unit shows a marked change in performance.
VUEROID does not warranty any defects that can be caused by owner's fault VUEROID is not responsible for any damaged that occur while driving.
2. PACKAGE CONTENTS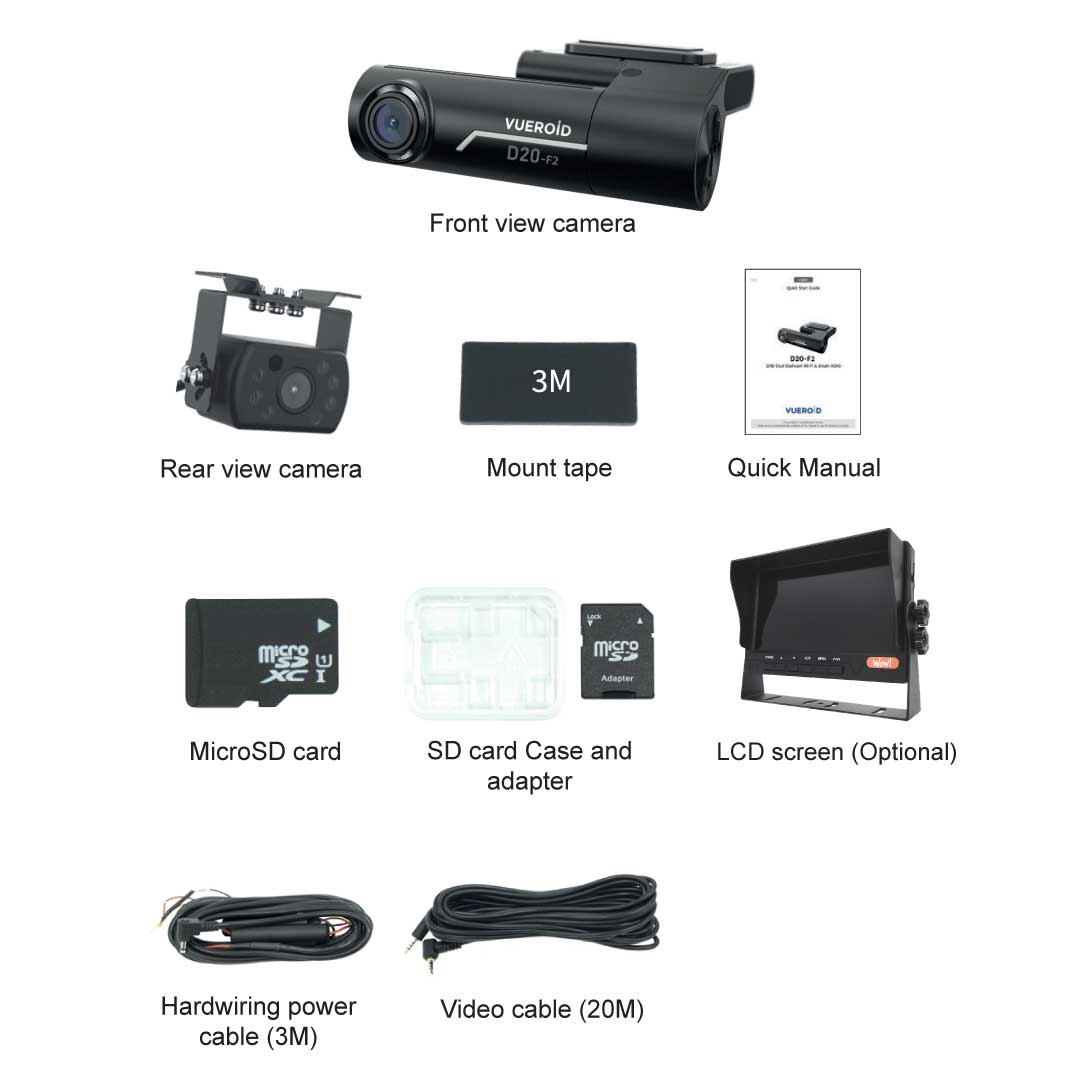 3. PRODUCT OVERVIEW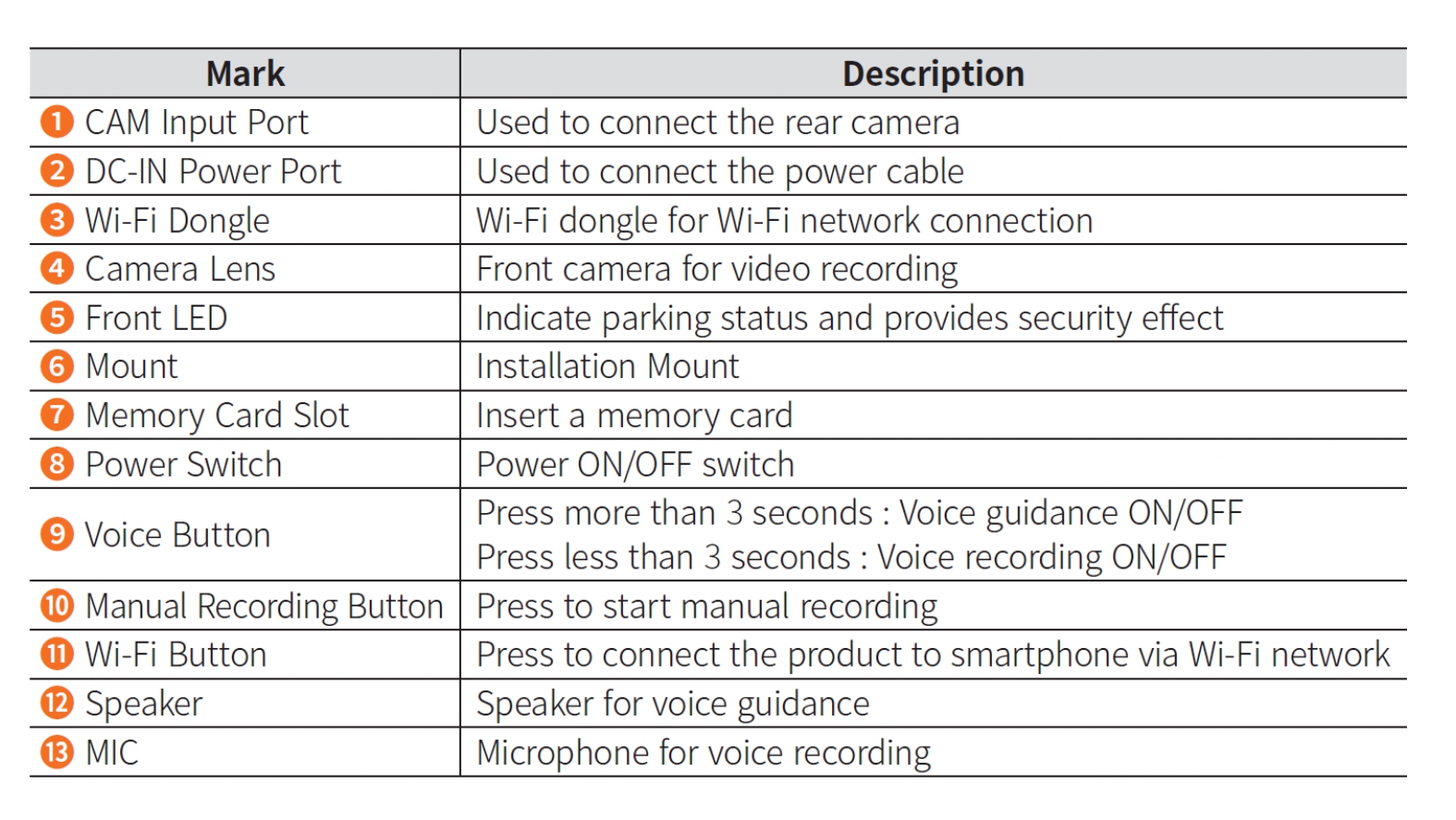 4. PRODUCT SPECIFICATIONS
ITEM
DESCRIPTION

Camera

CIS

Front: SONY Starvis 2M (IMX307)  Rear: CMOS Image Sensor 

Resolution

Front / Rear : 1920 x 1080 @ 30fps

View Angle

Front : 146º    Rear : 128º

Memory Card

Micro SD Card (16GB/32GB/64GB/128GB/256GB)

GPS

Not Applicable

LED Indicators

Front : Security & Status LED / Rear : Security LED

G-Sensor

3-Axis Acceleration Sensor, +2g /-2g

Speaker

Built-in Speaker (Voice Guide)

Microphone

Built-in Microphone

Video Codec

H.264 High Profile

Recording Mode

Normal  / Event / Manual / Parking (Motion and Time Lapse)

Dimension

Front: 107.8mm (W) x 42.6mm (H) x 75.4mm (D)




Rear :    45mm (W) x 26.5mm (H)  x 45.5mm (D)

Waterproof

Front (in cabin) - Not Applicable

Rear (external)  - IP65K Heavy Duty

Waterproof cable

For rear camera - 20 meter length

Power Input

DC 12V - 24V

Power Consumption

Max. 5.0W 

Operating Temperature

-20ºC ~ 70ºC ( -4ºF ~ 158ºF )

High Temperature Cut Off

Approximately 70ºC (158ºF ) / Battery Discharge Prevention

Certifications

FCC, CE, ROHS

Software

IOS and Android compatible mobile app




Window & Mac compatible PC Viewer 
5. DEVICE INSTALLATION
CAUTION
Make sure to install the device in a safe area and that the engine is OFF.


Please check if the Micro-SD card is inserted correctly before connecting to power.


Make sure the installation area is clean.


Unplug the DC power if you are not using the device for long period of time. 


Do not drop the product as it may not function properly.



During extreme high temperature or hot weathers, parking indoors is suggested.
5.1 Main Device Installation
Select and clean the area where the product will be installed.

Remove the Wind Shield tape film.

Attach the device.

Connect the front view camera and connect the power cable 
CAUTION
To avoid interrupted reception with other devices such as navigation, make sure the wiring is not overlapped wit enough space in between.



Before installation of Front Camera Mount, ensure there is sufficient space (No blockage by any devices) to remove the Front Camera in the event need to be dismantle. 
5.2 Connecting Hardwiring Cable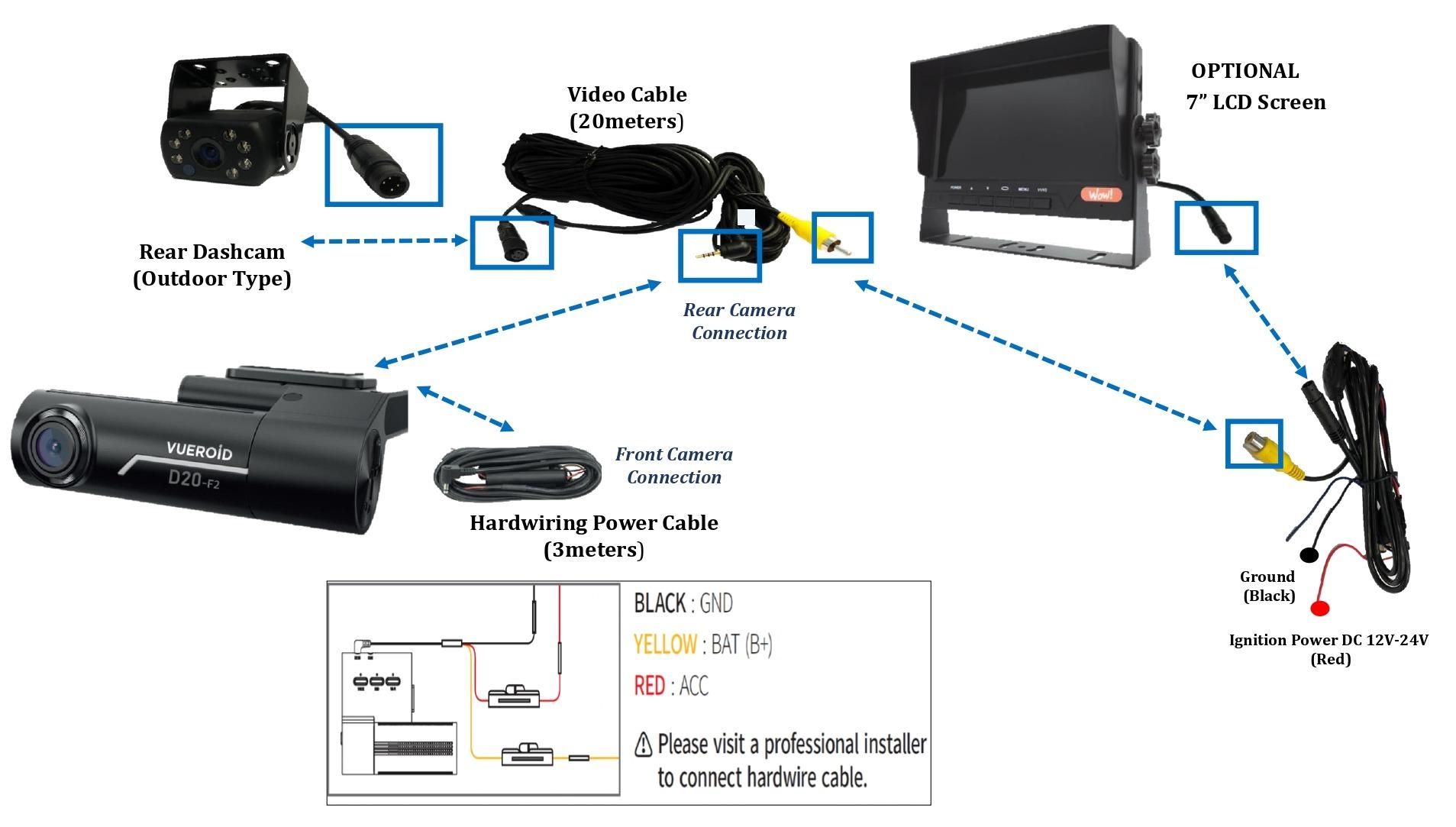 5.3 Rear View Camera Installation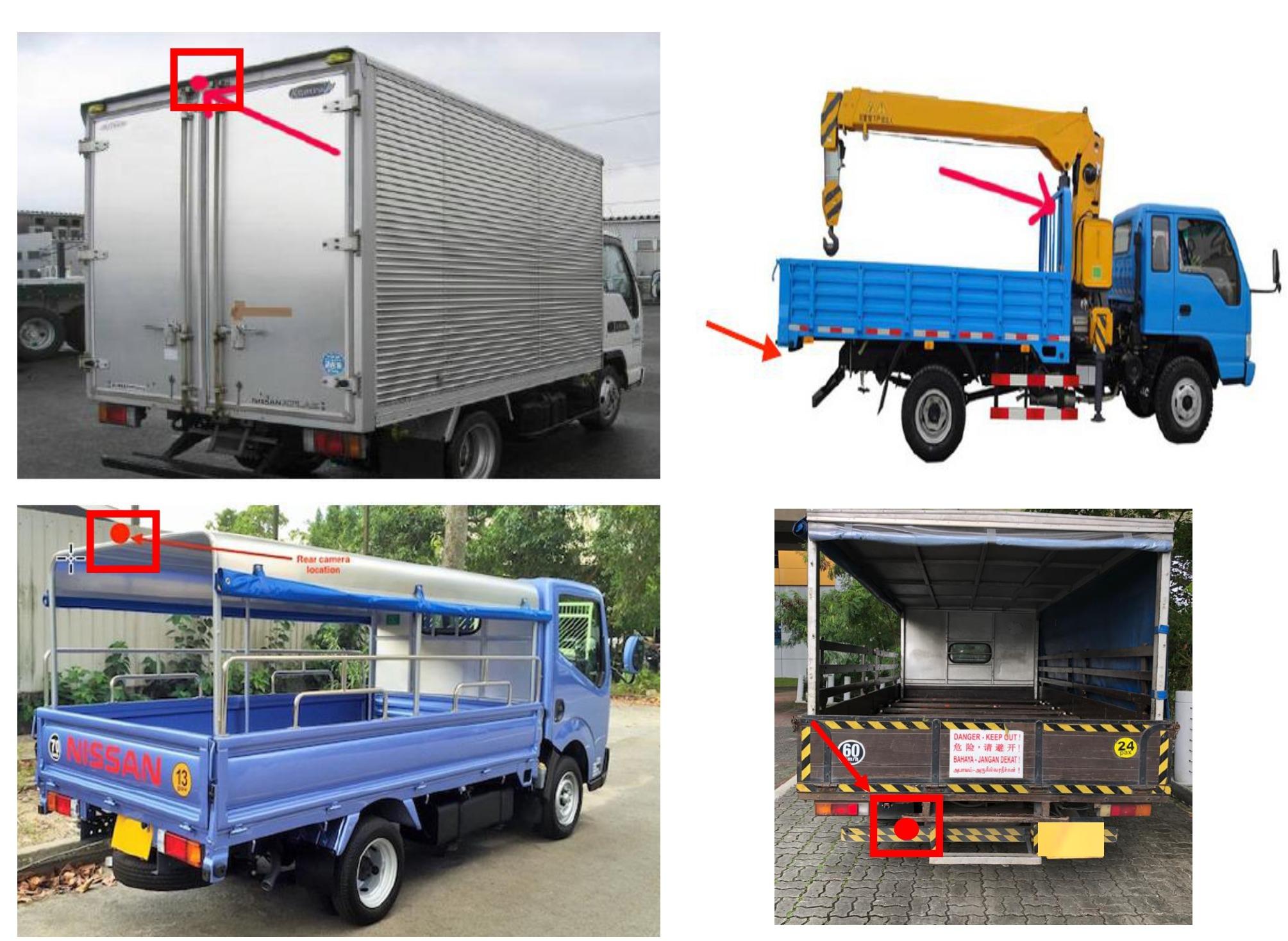 CAUTION
Before installation, make sure the engine is turned off.
5.4  Insert Micro SD Card 
Do not apply excessive force on the Micro SD card or insert in the wrong direction. Any actions which may cause an SD card error, will be the responsibility of the user.

Please test the Micro SD card for errors frequently and because it is a consumable item, it should be replaced periodically.

Make sure the device is turned off when you pull out the SD card.

Any issues arisen by using a different Micro SD card besides VUEROID's are the responsibilities of the user.

Store important recordings into other devices (ex, PC).
5.5  Format Micro SD Card 
Press and hold  "Voice" and "Wifi" button togather for a few seconds.

Dashcam will prompt that the SD card will be reformat 

Dashcam will be reboot/restart.

SD Card is formatted in "FAT32" type.
WARNING
Once SD Card formatted, all the files/videos will be erased. Ensure any important videos/files to be store into other devices before formatting. 
6. WARRANTY INFORMATION
All dashcams sold from VUEROID include a 1 year manufacturer warranty (6 months for SD card).
The warranty does not apply to the following

1) Cosmetic damage, such as scratches, and dents.

2) Damage caused by accident, abuse or natural disaster.

3) Damage caused by service performed by anyone who is not an authorized service provider of VUEROID.

4) Damage to a product by not using supplied power or accessories in the package.
7. CUSTOMER SERVICE 
Local Service Centre:
WOW! Gadgets Pte Ltd
8 Boon Lay Way, 04-02 Tradehub 21
Singapore 609964
Tel: (65) 61009691